Speed is enjoying some well-earned relaxation. Puffin is flying around the Kingdom in the sunshine. Princess Odette and Prince Derek have a romantic picnic planned.
And JeanBob...is taking a painting class!
We can't wait to see how it turns out
Rogers always designs something new every year within the firework show and it's Uberta's favorite! 

Rogers has also been working a great invention for celebrations that include loud fireworks. A comfortable ear plug for dogs and cats so they don't get scared during all the noise! 
Of course, the most exciting, and still, relaxing part of the festivities this month is BASEBALL! Bridget is quite a slugger!
Here are some favorite games to play around the castle during this time of year:
Red, White and Blue Scavenger Hunt
This is a fast-paced game that is great for indoor and outdoor fun.

Each team/individual is assigned a color (red, white or blue) and the first team to collect five items of that color is the winner!

For an added challenge why not set a timer - you could even roll dice to decide how many minutes a team has to find as many items as possible!


Glow in the Dark Bowling

Days can get too hot to go play outside, but this is a great activity for in the evening when the weather is a little cooler!

You Will Need:
6 empty soda/water bottles with the labels removed

1 hamster ball/regular ball

Glow Sticks
Instructions:
Activate the glow sticks and place at least 1 in each water bottle.

Place a glow stick in the hamster ball (you can use a regular ball if you can't find a hamster ball).

Line the bottles up in a triangular pattern (like a bowling alley).

Play on your own or with your friends and family to see how many 'pins' you can knock over!
July is a big month to get together with friends and family, this Taco Salad Flag Recipe is perfect for outings and for the festivities. 
Easy Taco Salad Flag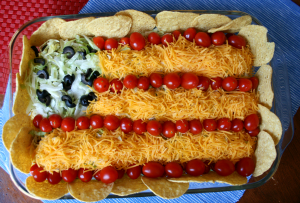 Ingredients:
1

 

pound

 

ground beef

 

or vegetarian crumble

3/4

 

cup

 

water

1/4

 

cup

 

salsa

1

 

envelope taco seasoning

4-6

 

cups

 

tortilla chips

4

 

cups

 

shredded lettuce

1/2

 

cup

 

pitted large olives

 

sliced lengthwise

2

 

cups

 

shredded cheddar cheese

2-3

 

cups

 

cherry tomatoes
Directions:
In a large skillet, cook beef over medium heat until meat is no longer pink. Drain off any extra grease. Next,  stir in the water, salsa and taco seasoning. Bring to a simmer and cook uncovered for about 10 minutes, or until most of the liquid is absorbed.

Place chips in a 13-in. x 9-in. dish.  Next spread beef evenly over the top of chips.

Cover beef with a layer of lettuce.

Arrange olive slices together in the upper left corner to form stars. For the stripes, alternate tomatoes, and cheese.  I added a couple of extra chips to the side of the dish for some extra crunch.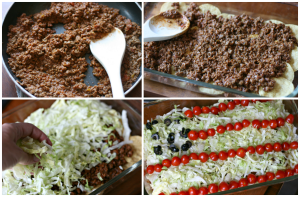 NOTE: If you are making these several hours in advance, skip placing the chips at the bottom of the taco salad and just serve them on the side.
Optional: drizzle a little bit of Italian or ranch dressing over the individual servings.
There are so many delicious things to eat in the summer; hotdogs, burgers and other barbecue favorites! If you thought that wasn't enough, there's a huge amount of sweet treats to enjoy like ice cream and cheesecakes! Why not try Princess Odette's delicious recipe below with an Independence Day twist?
No-Bake Mousse Cake
Base Ingredients:
1 cup graham crackers or 225g digestive biscuits 

7 Tbsp (100g) butter, melted
Mousse Cake Ingredients:
4 sheets of leaf gelatine

2/3 cup whipping cream (142ml single cream)

2 cups plain Greek yogurt (500g of fromage frais)

2/3 cup (140g) golden caster sugar

Zest of one small orange

4 tbsp orange juice

1 2/3 cups (400g) raspberries

1 1/4 cups of heavy whipping cream (284 ml of double cream)
Toppings:
Strawberries/Raspberries

Blueberries

Icing Sugar
Directions:
Put the biscuits in a plastic food bag and crush using a rolling pin.

Melt the butter in a medium pan, then stir in the graham crackers or biscuits. Tip this mixture into a loose-bottomed 9 inch (24cm) round cake tin and press down evenly.

Chill the base whilst you make the mousse.

Beat the yogurt, sugar, orange zest and juice together with a whisk or wooden spoon.

Stir in the cooled cream and gelatine mixture and the raspberries. Crush some of the raspberries against the sides of the bowl and stir again - leaving most of the raspberries whole for an extra fruity delight!

Whip the double cream lightly to soft peaks, then fold it into the raspberry mixture.

Pour the mousse into the cake tin on top of your biscuit base you prepared earlier and leave to chill for at least 3 hours (or overnight) until set.

Once set, carefully remove the cake from the tin.

Decorate the mousse cake however you like! For this recipe, we've chosen red, white and blue toppings but feel free to put your own twist on the cake topping.  You could decorate with chocolate like Prince Derek or honey like Alise!

Why not try Princess Odette's fruity sauce - blend together raspberries and/or strawberries, 3 tbsp orange juice and 2 tbsp of golden caster sugar for an extra sweet and delicious taste!
Parties in July!
USA is not the only country to have with fireworks, parades, picnics and family activities
Canada Day, a national holiday celebrating the formation of Canada as a single country is July 1st
Bastille Day or French National Day is July 14th
Check out these other countries that celebrate national pride holidays in July:
Bahamas       Belarus     Belgium     British Virgin Islands     Burundi     Cape Verde     Colombia     Comoros     Egypt     Iraq     Liberia     Malawi     Maldives      Mongolia     Montenegro       Morocco     New Caledonia     Palau     Peru     Rwanda     St. Martin      Soloman Islands           Somalia     Venezuela     
About The Swan Princess
The Swan Princess is based upon the folk tale and ballet, Swan Lake. The story is transformed into a playfully fun adventure with exciting music, lovable forest friends, and of course, the handsome Prince Derek. The Swan Princess, Odette, has stayed true to original fairy tale princess with her kindness, grace, and loyalty.
Three reasons you should follow us on Facebook 1) Get a behind-the-scenes look as Princess Odette and Prince Derek continue their adventures 2) Be one of the first to be notified when new products are released and 3) Share your Swan Princess stories and tales with other die-hard fans.